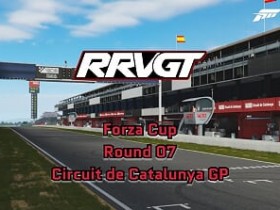 Liebe Community,
Am Donnerstag dem 13. Februar 2020 startet der 7. Lauf des RRVGT Forza Cup auf dem Circuit de Catalunya. Gefahren wird auf der verkürzten National Variante was aber trotzdem bedeutet das der für diese Strecke typische hohe Reifenverschleiß garantiert ist. Dies könnte taktisch gesehen im Hauptrennen dann ganz interessant werden wer dann die beste Strategie wählt. So langsam kommen wir auch dem Endspurt des 4. RRVGT Forza Cup entgegen. Aber eins muss man sagen: Es bleibt spannend bis zum Schluss auch wenn in Brands Hatch "The Notorious Forza 7" Kevin Vinni wieder allen davonflog. Der Punktestand sagt das es bis zum letzten Rennen noch ein schöner Zweikampf zwischen Vinni und Fredi wird. Wir dürfen also gespannt sein wie es am Donnerstag aussehen wird.
Noch eine kleine wichtige Info am Rande. Die Pläne für die 5. Saison werden langsam konkreter. Dazu kommen in den nächsten Wochen noch genauere Infos.
Vor dem Event noch schnell ein Überblick vom aktuellen Tabellenstand
Die Fahrerwertung nach 6 von 10 Rennen
1. Vinni | 191
2. Fredi | 181
3. Nicole | 154
4. Max | 122
5. Sascha | 71
6. Lars | 60
7. Niki | 30
8. Luca | 22
9. Tim | 19
Die Teamwertung nach 6 von 10 Rennen
1. KuB | 336
2. Equipe Textmarker | 313
3. RRVGT | 60
4. Swiss Clio Racing Team | 46
Most people think I have a lot of fun and that I'm a pretty good driver but they don't take my driving all that seriously.
James Hunt
The post was edited 1 time, last by K Vinni ().