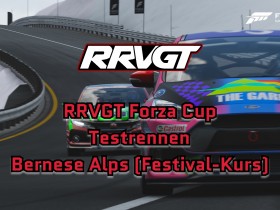 Hallo Liebe Community
Hallo Liebe Rennsport Freunde,
Bald ist es wieder soweit. Unsere Xbox Simracer werden wieder mit einer neuen Meisterschaft an den Start gehen. Und anders als andere Meisterschaften wird in diesem Jahr mit Hot-Hatches gefahren (natürlich ein bisschen getunt). Erlebt also Konsolenrennsport auf höchstem Niveau mit echten Straßenautos.
Weitere Infos zu Regeln etc. findet ihr hier:
docs.google.com/document/d/1-O…A7IwNq83cxlnATwxyVlnZY1eA
Die Termine für die Rennen stehen auch schon fest so wird es vor Saisonbeginn am 24. Oktober 2019 um 19 Uhr auf dem Festival-Kurs der Berner Alpen einen Testlauf geben.
Hier der offizielle Kalender:
Runde 1
7. November 2019 Hockenheim (Kurz)
Runde 2
21. November 2019 Spa-Francorchamps
Runde 3
5. Dezember 2019 Le-Mans (Bugatti)
Runde 4
19. Dezember 2019 Silverstone International
Runde 5
16. Januar 2020 Nürburgring GP
Runde 6
30. Januar 2020 Brands Hatch GP
Runde 7
13. Februar 2020 Circuit De Catalunya (National)
Runde 8
27. Februar 2020 Nürburgring (Nordschleife)
Runde 9
12. März 2020 Monza GP
Runde 10
26. März 2020 Hockenheim GP
Wer also gerne Forza spielt und eine lustige Community erleben möchte der ist herzlich Willkommen zur unserer Competition. Kommentiert dann einfach unter diesem Post mit eurem Namen, Gamertag, Startnummer, Fahrzeug und Teamnamen.
Wir freuen uns auf schöne und unterhaltsame Duelle
Eure Forza Community
Bisherige Teams und Fahrer
Equipe Textmarker
#1 Kevin Vinni (xXHerrSchmidt50)
#22 Max (XX Suchti XX)
#23 Tim (KnightRider8224)
KuB
#27 Nicole (CH1 PUPSI)
#69 Fredi (CH1 Barracuda69
Most people think I have a lot of fun and that I'm a pretty good driver but they don't take my driving all that seriously.
James Hunt
The post was edited 2 times, last by giromc ().